Geo-Environmental Site Investigation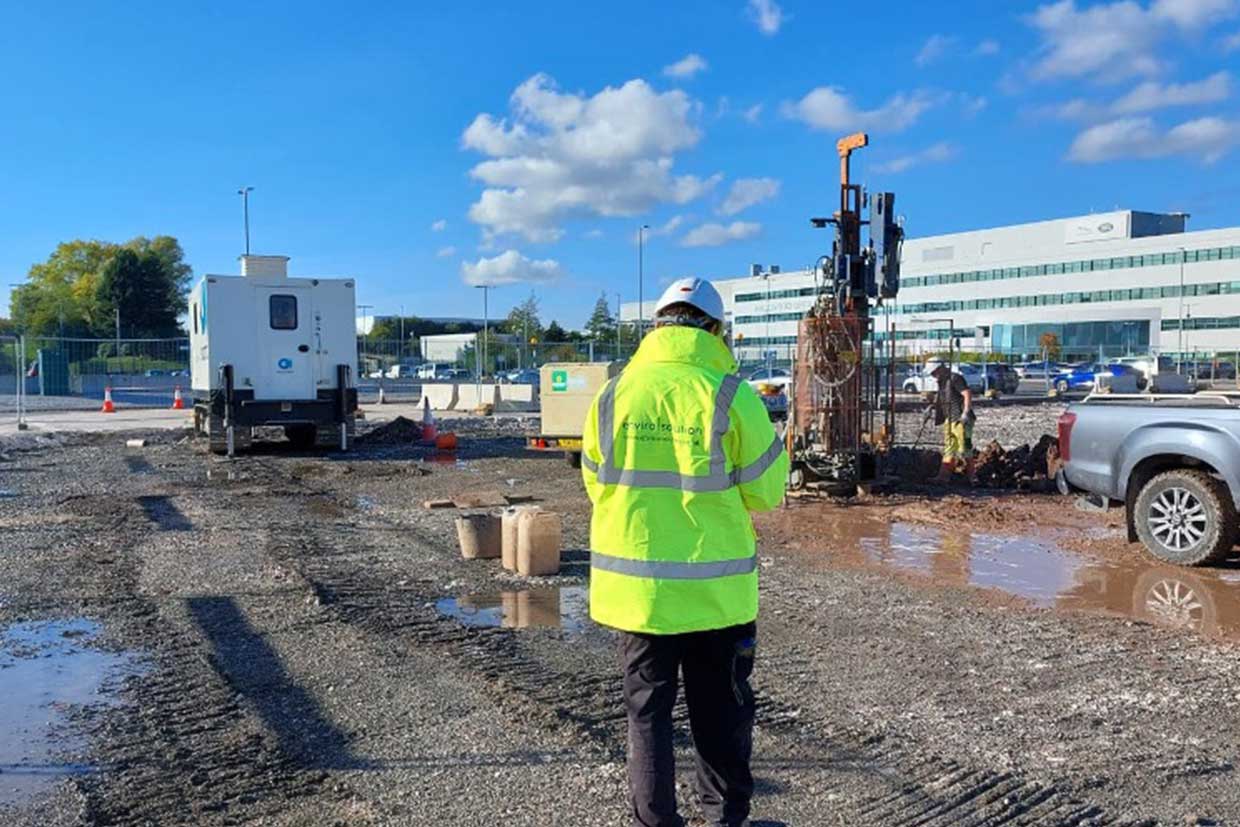 EnviroSolution were appointed by Jaguar Land Rover to undertake a combined geo-environmental site  investigation to inform development plans for a new extension to an existing production facility. This work was commissioned to satisfy the planning authority and to provide sufficient information for the foundations to be designed.
The project involved the design, project management and supervision of a detailed Phase 2 Ge-Environmental and Geotechnical Site Investigation.
For a large and active industrial site, EnviroSolution were required to produce detailed RAMS in compliance with site specific measures of health and safety and environmental protection. This included dust control measures and soil/groundwater bunds to protect site drainage. EnviroSolution attended a site safety induction and then provided toolbox talks to sub-contractors.
The site investigation included window sample drilling, concrete coring, cable percussive drilling, foundation pitting, CBR testing, cone penetration testing and rotary drilling. A range of drilling and sampling techniques were utilised on this site in order to obtain quality samples for geotechnical testing along with in-situ testing. These included bulk samples, undisturbed samples and rock cores.
The ground investigation included the installation of combined groundwater and ground gas monitoring wells. EnviroSolution completed a programme of gas and groundwater monitoring over a 3-month period.
EnviroSolution produced a fully detailed interpretive Geo-Environmental Phase 2 report for the site which included in depth information of the ground conditions, a quantitative assessment of the data in line with current UK guidelines to ensure compliance with the enforcing authority.
Waste classification was also undertaken to identify suitable disposal route for waste soil arisings that will be generated during the groundworks programme.
EnviroSolution were commissioned on the basis of meeting tight and critical timescales for the completion of the work to ensure production at the factory was not affected beyond the target timeframe. Within one week, EnviroSolution had mobilised to site with all subcontractors and begun work. EnviroSolution were able to meet the deadline and also attended daily site meeting to update the client of progress. Upon completion of the work, the preliminary factual information including borehole records and in-situ test results were issued in a preliminary site investigation report within one week to allow the client to produce preparatory foundation designs.
The waste classification helped to inform the costings for the groundworks programme.